6-WEEK PERFECTION NECK TIGHTENING CREAM - Trial Size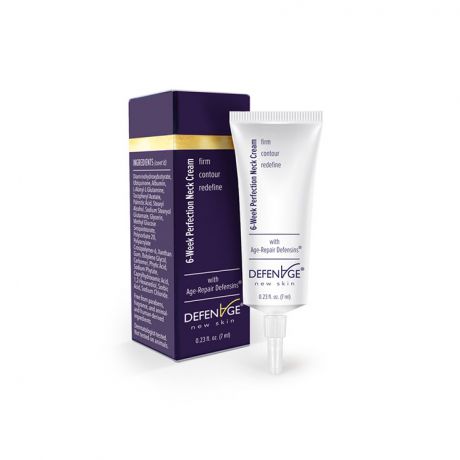 6-WEEK PERFECTION NECK TIGHTENING CREAM - Trial Size
FREE SHIPPING 0.23 fl. oz. | 7ml
This cute tube is a trial size of our newly launched 6-Week Perfection Neck Tightening Cream, 2-3 day supply. Enjoy instant deep moisturization and experience the first effect of skin tightening after just a few applications. We worked on this cream 3 years and specifically designed it for the neck skin, which ages differently than other areas of the skin on our body and face. 
Read experts' opinion in the article "New Luxe Anti-Aging Neck Treatment Acts Fast via Cutting-Edge Science" ►
Find out more about features of the neck cream on the full-size product page ►
Optionally, use this tube as a weekend-trip supply.
Made in the U.S.A.
DIRECTIONS
6-Week Perfection Neck Cream 
Daily: AM | PM
Twice daily after cleansing, place  a pea-size amount of the neck tightening and moisturization cream onto fingertips. While skin is still moist, lightly massage cream onto the skin with short lifting motions using fingers of right hand to apply to left side of neck and décolleté, and vice versa. Start above breast line and work up to jawline and back of neck. 
Suitable for all skin types.
---
WARNINGS
For external use only. Keep out of eyes. If product enters eyes rinse thoroughly with water. Discontinue use and consult a physician if irritation or allergy develops. Keep out of the reach of children.
KEY PERFORMANCE INGREDIENTS & TECHNOLOGIES
Age-Repair Defensins® | 1X  | DefenAge's Exclusive
promotes new skin • anti-aging on a global scale • retinol alternative
Defensins are natural molecules. They signal our body to create new skin by activating the dormant reserves of "fresh" and young cells. DefenAge contains an identical copy of human defensins made via bio-synthesis; defensins are exclusive to DefenAge.


Niacinamide
hydration • firmness & elasticity • brightening
Niacinamide soothes, revives the skin's natural moisture barrier, renews the feel of skin firmness and elasticity, and brightens overall skin tone.
Sea Whip
• skin calming & soothing •
Keeps skin calm. Strongest, fastest, most effective soothing ingredient from the sea.


Fine Blends of Advanced Peptides and Natural Extracts
anti-wrinkle • hydration • visible tightening
Our "know-how"-protected, advanced, and powerful blends of peptides and natural extracts have been shown to be effective in visible tightening of sagging neck skin.
Phospholipids
• skin-replenishing •
Energize skin hydration. One of nature's most powerful retainers of moisturization.
Vitamin E
• antioxidant •
Proven antioxidant, address environmental cell damage and defend against free radicals. Clarify and energize the skin for a revitalized radiance and luminosity.
---
CLEAN BEAUTY
The neck cream formula exceeds most, if not all, industry and beauty standards for clean skincare. In addition to the extended list of ingredients that are restricted for use in DefenAge, the 6-Week Perfection Neck Tightening Cream also does not contain silicones, PEGs, and is free from fragrance. To learn more about DefenAge's clean skincare standards, please visit our Clean Beauty page.
---
GREEN PLANET
The tube and box are fully recyclable, please recycle.
Not tested on animals.
---
INGREDIENT LIST
6-Week Perfection Neck Cream
Please review the detailed ingredient list on the full-size product page ►
QUALITY GUARANTEE
Quality guaranteed ONLY when 6-Week Perfection Neck Cream is sold by defenage.com or authorized professionals, otherwise it may be counterfeit, black market, old or improperly stored or handled.
Quality is NOT guaranteed when sold by Amazon, eBay or other unauthorized sources. 
MONEY BACK GUARANTEE
6-Week Perfection Neck Cream - trial size is qualified for the Money Back Guarantee.
Return Policy ►